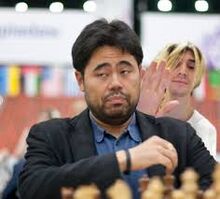 Hikaru Nakamura was born on December 9, 1987. He is a Japanese-born American chess Grandmaster and a popular Twitch streamer.
At the very young age of just 15 years and 79 days, Nakamura became the youngest American to earn the grandmaster title. He is a five-time United States Chess Champion, who won the 2011 edition of Tata Steel Chess Tournament Group A and represented the United States at five Chess Olympiads, winning a team
gold medal and two team bronze medals. He has also written a book about bullet chess called Bullet Chess: One Minute to Mate.
His peak USCF rating was 2900 in August 2015. In October 2015, he reached his peak FIDE rating of 2816, which ranked him second in the world. In May 2014, when FIDE began publishing official rapid and blitz chess ratings, Nakamura ranked number one in the world on both lists. He was surpassed by Magnus Carlsen in the second publication of the rankings.
Community content is available under
CC-BY-SA
unless otherwise noted.